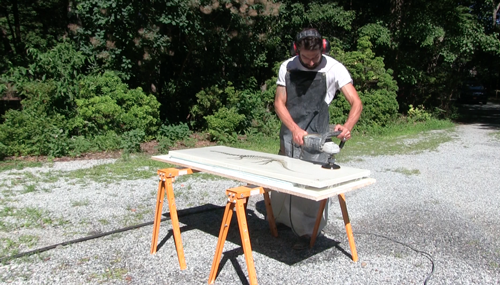 It begins with nature. TDS represents a design methodology that is so passionate about the land that it honors everything that comes from it. Every piece comes together through a marriage of petrified wood and concrete; each material having spent time on both land and in water. Sourced pieces of drift wood, shaped and seasoned by water, are then reclaimed to create works of functional art. Identifying the natural lines of the wood – envisioning what the piece is meant to become – Teasdale then draws out, fixing it into existence with concrete in a proprietary process that has become his signature style – giving a once wild and natural entity a newfound architecture, as well as clean, modern lines. In joining the natural with the crafted, Teasdale provides structure where necessary to give each piece a life of it's own, outside of the water. This half land/ half water aspect is what inspired Teasdale to aptly name this series of work: "Mermaids." Whether a furniture piece, or an art object – like the totem sculptures – each TDS work is a bespoke, one-of-a-kind creation, crafted and built to stand the test of time, both in interior and exterior spaces. TDS's signature mark – a golden dragonfly – the spirit animal of the brand, seals each piece with an omen of light and love. Otherwise cold and sterile materials such as concrete or wood, come together at TDS to create vessels of warmth, craftsmanship, and legacy. Every piece will outlive its craftsman.
pet·ri·fi·ca·tion
\ ˌpetrəfəˈkāSH(ə)n\
(noun)
the process by which organic matter exposed to minerals over a long period is turned into a stony substance.
• an organic object that has been turned to stone.
plural noun: petrifications; plural noun: petrifactions
re·claim
\rəˈklām\
(verb)
past tense: reclaimed; past participle: reclaimed
• retrieve or recover (something previously lost, given, or paid); obtain the return of.
synonyms: get back, recoup, claim back, recover, regain, retrieve
• bring (waste land or land formerly under water) under cultivation.
craft
\ kraft\
(noun)
• an activity involving skill in making things by hand.
synonyms: activity, occupation, profession, work, line of work, pursuit
(verb)
• exercise skill in making (something).
"he crafted the chair lovingly"
EACH PIECE IS HAND-CRAFTED BY THE ARTIST, USUALLY ON A COMMISSION BASIS, WITH PRICES RANGING FROM $5,000 - $15,000. WE ALSO CARRY A SMALL INVENTORY WHICH SELLS OUT QUICKLY, SO DO GET IN TOUCH FOR OUR CURRENT STOCK-LIST. NEW PIECES CAN OF COURSE BE COMMISSIONED ACCORDINGLY WITH THE ARTIST \ GET IN TOUCH HERE. \